Customised SMC Pneumatics Solution in Sydney
SMC Pneumatics Cylinder, Actuator, and Valves in Sydney
We at Southwest Hydraulics and Pneumatic Services have been providing high-quality Hydraulic and Pneumatic Products and Services over the last 25 years in Sydney and across Australia. We are always looking to improve our products to provide our clients with the most productive and cost-efficient solutions for their requirements. Our specialist lies in hydraulic and pneumatic repairs, Pump and motor repairs, power equipment, designing, manufacturing, installing, repairs of all kinds of hydraulic and pneumatic products.

SMC is one of the largest manufacturers of pneumatics and electrical automation. So, we along with SMC are focusing on innovative pneumatics for better performance and optimum safety for users. Everything for Cylinders, Actuators, Valves, and many others are ensured to pass the highest safety standards in the design phase itself. The SY series is available in different formats like SY3000, SY5000 and SY7000.
Using the SMC pneumatic ETECH tool, we could create multiple SMC products, validate part numbers, use sizing calculators to make suitable products, and simplify the products. Also, with the help of 2D and 3D CAD drawings and models, we have made our product designs.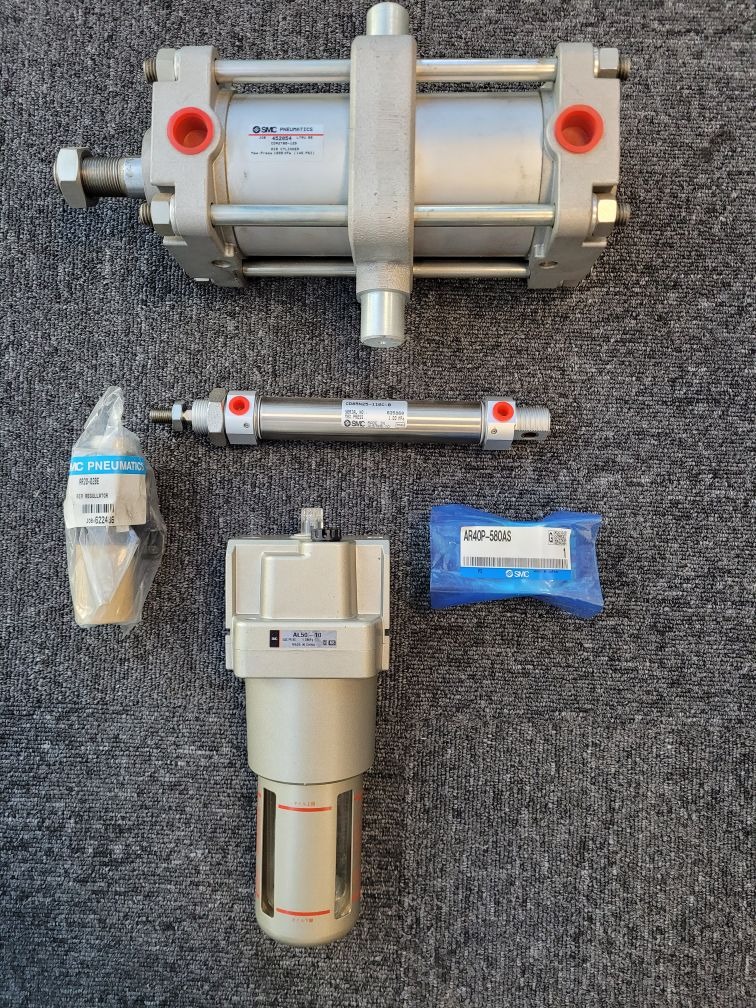 Actuator

: They consist of a round body cylinder, compact cylinder, and guided cylinder, along with a rotary actuator, gripper, and hydraulic cylinder.

Solenoid Valve:

They have high flow capacities using compact design, low power requirements, high-speed response, better durability, built-in surge suppression and indicator lights. Solenoid Valve Manifold options consist of- One-Touch fittings, prewired electric connections, and serial interface, which would help to simplify the installation, maintenance, and control.

Airline Equipment, Filter, Regulator, Lubricator (FRL):

They help provide clean, dry air, which is necessary to achieve peak performance as per the needs of your fluid power system.

Fitting and Tubing:

They include a positive tube seal when the fitting is under pressure, allowing polyurethane tubing.

Vacuum Generators, Vacuum Switches, Vacuum Regulators

: Cups, buffers, fittings and wiring solutions allow for the widest use of technology and performance to meet your design requirements.

ETECH Online Catalog

: An ETECH program that would help to select, specify, validate, and draw SMC Pneumatic products with ease.
Benefits of an SMC Pneumatic Actuator:
An SMC Pneumatic Actuator is one of the widely used mechanical products in today's industry. Pneumatic Actuators provide mechanical motion to an application by compressing the atmospheric air. Their key benefits are as listed below:
Durability-

While most pneumatic actuators have overheating issues, our range of SMC pneumatic actuators can sustain the pressure for longer durations which makes them more durable.

Reliability-

Our SMC pneumatic actuators are highly reliable. This is due to the high efficiency maintained for the conversion of gas to energy. Adding durability to the mix helps improve their reliability as well.

Cost-efficient-

Our SMC pneumatic actuators are easy to install and maintain, making them the most cost-efficient choices for various industrial applications.

High Force and Speed of Movement- Our SMC pneumatic actuators have the best hygiene; this is mainly due to air instead of fluids. As there are no harmful chemicals or oils used, it protects the application from contamination.
Clean Technology- Our SMC pneumatic actuators have the best hygiene; this is mainly due to the use of air instead of fluids. As there are no harmful chemicals or oils used, it protects the application from any kind of contamination. This makes them an ideal candidate to be used in the food and beverage industry.
There are several types of high-quality SMC pneumatic actuators, cylinders, and valves available to meet everyone's needs in Sydney and across Australia.
To get the best SMC pneumatic in Sydney, you can contact us on 02 9605 4199 or write to us at sales@southwest-hydraulics.com.au. Our experts will assist you in clearing all your doubts and queries related to your SMC pneumatic needs. They will also guide you to find the perfect match for all your SMC pneumatic needs in Sydney.
Trust Southwest Hydraulics and Pneumatic Services for Quality SMC Pneumatics Products!