Air Compressors and Generators
South West Hydraulic and Pneumatic services are an authorised Agent for a large range of Air Compressors and Generators for sale in Sydney.
Having a quality range of Air Compressors and Generators offers an even more complete service to our customers.
The range includes well known industry brands such as Westinghouse, Senator, Almig, Puma, Airmac, Fusheng, FS Curtis.
Members of our service team have had training on service of Senator and ALMiG and training on Almig controllers at the Suppliers QLD Headquarters.
The Almig Combi series Air Compressor is a high quality German made Compressor with low noise levels and a 5 Year warranty.
Almig has a compact footprint and the Almig Combi 4in1 compressor air stations can be located directly adjacent to the worksite.
The rotary screw compressor, air tank, refridgerant dryer and dual filters are integrated into a stand-alone compressed air system.
Puma 240 volt Air compressors have remained ever popular in Australia for over 30 Years due to their proven reliability and performance.
Featuring Puma's tried and tested cast iron compressor pumps for high flow and pressure outputs.
The range of Westinghouse portable electric generators available through South West Hydraulic and Pneumatics is very popular.
The utility series of Westinghouse generators are compact, high performance units designed specifically for Australian operating conditions.
Equipped with a unique combination of high quality features, they offer superior value for money. An ideal portable power supply for the home, business, farm or job site.
Our close working relationship with our Supplier means solid back up from start to finish and provide our clients with air compressors on sale in Sydney.
We have you covered from the application needs, supply and install, through to routine services post supply.
So, as you can see, we offer you the most extensive range of air compressors and that too at the best prices. Our products can work on all kinds of power sources, such as electric, diesel, and petrol. We also offer a complete range of air compressors, such as screw-air and silenced products. You have also seen that we have products from all the best brands that you will get to see in this regard in Australia. Do you require accessories or fittings for your compressor? In that case, you need not worry because we have got you covered. This is a significant reason we are a leading name for air compressor for sale in Sydney.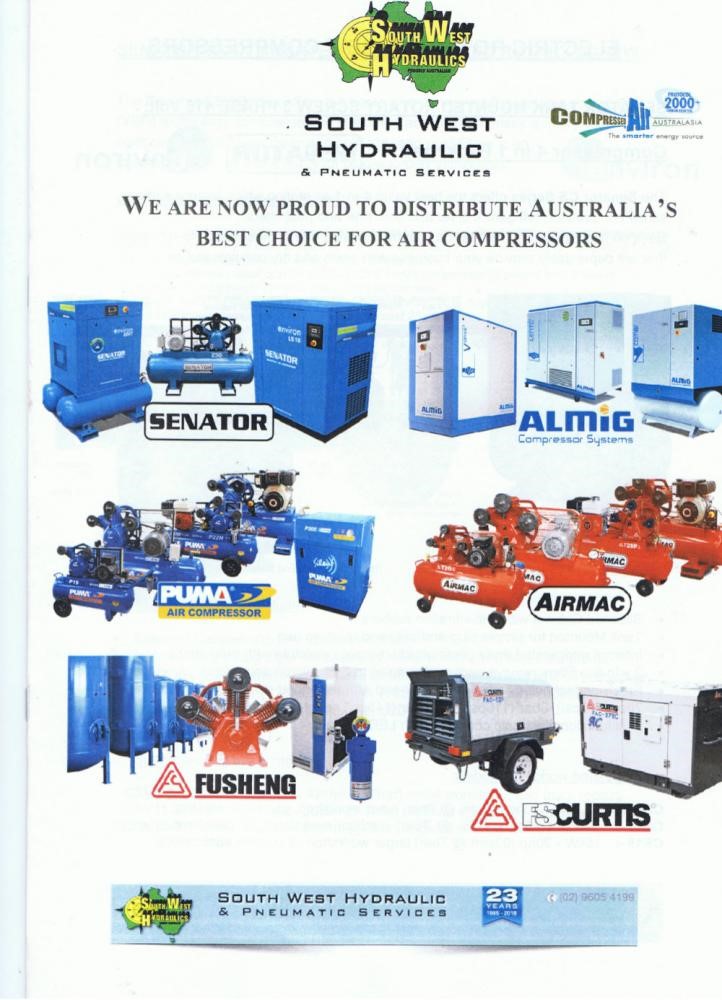 You can be sure that we will get you up and running in this regard in almost no time at all, with the following:
Hose Clamps
Sockets
Adaptors
Air Hoses
Plugs
Hose Reels
The air tools that we offer
We have the largest array of air tools in the country, which includes the likes of the following:
Pneumatic Flooring Staplers
Reciprocating Saws
Pneumatic Impact Wrenches
Shears
Angle Grinders
Nibblers
Die Grinders
Riveters
Finishing Nailers
Tyre Inflators
Framing Guns
We are there for all the compressor-related requirements
No matter what compressor-related requirement you have, you can be sure that we'll have you covered.
You may be the owner of a workshop and so you require a huge air compressor so that you can have the operating power you need for your pneumatic tools or spray guns
You may need a small compressor for your camping trip that will help you pump up the tyres of your bikes.
Our air filters and filter regulators
These products are helpful in jobs such as painting jobs; we have an extensive collection of inline pre-filters. It is the range of our products that makes us the top name for air compressor for sale in Sydney. Our inline pre-filters make sure that your air distribution lines never get contaminated by the likes of dust, oils, and water. These contaminants can combine and create corrosive emulsions, damaging the lines, the final product, and the pneumatic devices. We have air filters in all sizes to match screw compressors of every size.
Our silenced air compressors and air dryers
These products are highly useful in establishments such as paint shops, car repair shops, and car dealerships
Air dryers make sure that the air stays dry by sucking out all the water vapour.
This, in turn, makes sure that your tools do not get corroded as much as will have happened otherwise.
This helps you get the best possible finished product, too.
Our compressor oils
They help with the lubrication of your air compressor
These are mineral-based oils
They bring down friction, and this is how they increase your air compressor's lifespan
This, in turn, makes sure that the moving parts suffer minimal wear and tear
These oils also offer a seal that minimises pressure drops
These oils are ideal for use in rotary vanes, pistons, low-pressure, and reciprocating screw air compressors
A few words on our team
Our team is a major reason we are the best company for air compressor for sale in Sydney. Our technicians have a vast knowledge of the industry. Therefore, they can work so well in all installations where you use compressed air.
How do we help you?
You can always trust in our knowledge to provide you with all the support that you need in this regard. So, if you want a company that can help you the best with your air compressor requirements, irrespective of your size, feel free to get in touch with us. You can call us up at 02-9605-4199 or drop an email at sales@southwest-hydraulics.com.au if that seems convenient to you.