Enerpac Industrial Tools & Equipment - Innovative Products and Effective Solutions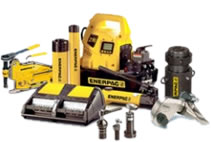 Enerpac features the most comprehensive family of hydraulically driven, high-force industrial tools and equipment. Distributed globally yet supported locally, to make you more productive and the work you do safer and easier to perform. Enerpac have combined their decades of experience in hydraulics with the versatility of other force-generating technologies to create the widest range of industrial tools & accessories. Innovative products and effective solutions for virtually all industrial applications.
When people in the industry think of Porta Power and High Force Tools they think ENERPAC such is the reputation, long standing, and with merit. At South West Hydraulics we believe no other product brand comes close to matching Enerpac.
South West Hydraulics has been a proud full Distributor and authorised Repair centre for Enerpac for over 20 Years and have strived to become one of the leading Distributors of Enerpac in NSW. We have worked hard to become well known for the Product and in getting the information to the Customers and with the good report of the Enerpac Territory Managers and Staff offering exceptional Customer service.
Not only is our pricing on new equipment very competitive, we have also repaired and serviced many thousands of Enerpac Tools over the years at our factories in Ingleburn, and at times Tools from many parts of the Globe.
When you think Hydraulic Tooling think Enerpac, when you think Enerpac think .......South West Hydraulics.
Our focus as an organisation
As a top-tier company in the hydraulics industry, we at South West Hydraulic and Pneumatic Services are always looking to help you – our clients –
It helps that our tools can be used so easily, and they offer the kind of flexibility that they are known for. We can provide coverage for so many kinds of requirements and services. Therefore, you can always trust us to provide you the finest Enerpac industrial tools. As such, we always strongly recommend that you use tools from a top brand, such as Enerpac. By using Enerpac industrial equipment, you will be able to improve your total productivity.
A few words on our array of hydraulic equipment
We have a wide array of equipment including Presses and Torque Wrenches,Cylinders and Pumps,and Accessories.
We are directly connected with the business of selling Enerpac hydraulic tools
This helps us offer you the finest hydraulic applications for your industry
Our track record in the industry
We have been involved in this business for close to 26 years
As such, we have delivered many such tools like Enerpac hydraulic Pumps,Cylinders,Hoses,Presses,and Torque wrenches,and more, to our clients in all these years.
Our tools will help you make the most of the efficiency of the workforce at your disposal.
It will help you save labour time and expenses as well.
Our work ethic is continuous
We also offer repair services for Enerpac industrial tools
We will fix your improperly working or worn & torn equipment
Thanks to our experience, we can always come up with the best solutions.
They help you get the greatest productivity by improving the overall performance of your workplace.
This is why there is such tremendous demand for Enerpac industrial equipment
Our status in the industry
As we have said already, we are an approved Enerpac supplier
We can offer you the best hydraulic tools for your industry
We have a vast variety of machines and tools at our disposal
This is why people always come to us when they need Enerpac hydraulic tools
They know that these tools will help them achieve best efficiency in their work.
The competitive pricing of our products helps you save money too without compromising on the quality of the product.
This is why we are the most trusted name in the region for the likes of Enerpac hydraulic Tools
All our products are extremely reliable, and they will provide you top performance throughout the day.
This makes sure that you do not lose time in labour work
These hydraulic tools are built in such a way that they can last a long time.
No matter how harsh the work environment is, they will keep working.
They will also provide you with the flexible solutions that you are looking for in these cases.
So now you know who to call if you need Enerpac industrial tools.
Come and find out what we can do for you
So, if you want to work with us and for the best Enerpac industrial equipment, please feel free to get in touch with us. You can call us at 02-9605-4199 or send us an email at sales@southwest-hydraulics.com.au.
RC-Series, Single-Acting Hydraulic Cylinders
Enerpac RC Series hydraulic cylinders set the industry standard for general purpose cylinders.
Unique GR2 Bearing Design, reduces wear, extending life
Collar threads, plunger threads and base mounting holes enable easy fixturing (on most models)
Designed for use in all positions
High strength alloy steel for durability
Redesigned cylinder thread protector for ease of use
Heavy-duty, pretensioned spring improves retraction speed
Baked enamel finish for increased corrosion resistance
CR-400 coupler and dust cap included on all models
Plunger wiper reduces contamination, extending cylinder life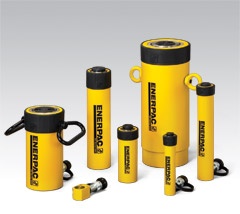 P-Series, ULTIMA Hydraulic Steel Hand Pumps
Enerpac high pressure ULTIMA hydraulic steel hand pumps are the solution for tough jobs
Reduced handle effort and ergonomic grip for less operator fatigue
Two-speed operation for fast and easy operation (except P-39)
Vent free reservoir eliminates spills
Quick grip handle allows for easy transport
Integral reservoir over-pressurization protection
All steel construction, chrome plated plunger and wiper system for durable, long lasting performance
4-way valving on the P84 and P-464 for operation of double-acting cylinders
Large oil capacities to power a wide range of cylinders or tools